The holiday season can be a stressful time, but there are still a number of reasons we look forward to it. It's a time for giving, spending time with family, showing off your crafty decorating skills, and eating the best food you've had all year. Below, you'll find a list of different Christmas traditions around the world, including decorations and dessert. Try something new this year!

POLISH TRADITIONS
Advent marks the beginning of Christmas in Poland, a largely Catholic country. During advent, people are peaceful, remembering the real reason for Christmas. They don't overindulge in food, drinks and parties. Instead, they go to church more often and prepare their houses for Christmas by thoroughly cleaning every inch, from top to bottom.
Decorations
Blown glass ornaments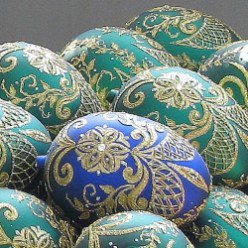 Source: © Georgene A. Bramlage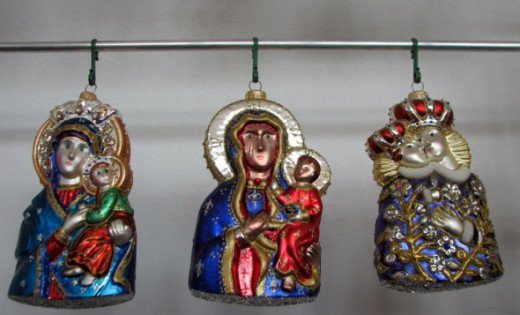 Source: http://hubpages.com/holidays/polish-blown-glass-christmas-ornaments
Dessert
Polish Cream Cheese Christmas Cookies (KOLACZKI OR KOLACKY)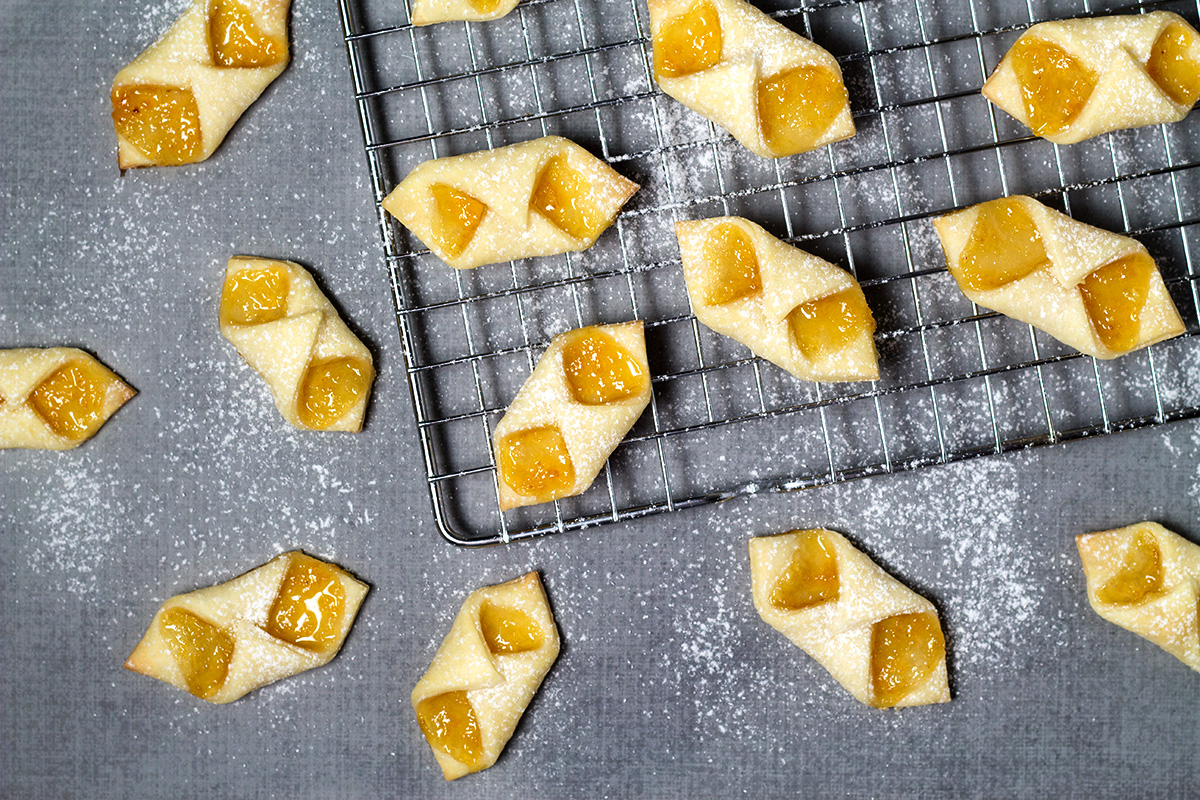 Source: http://cookingtheglobe.com/polish-cream-cheese-cookies-kolaczki/
Polish Christmas Cookies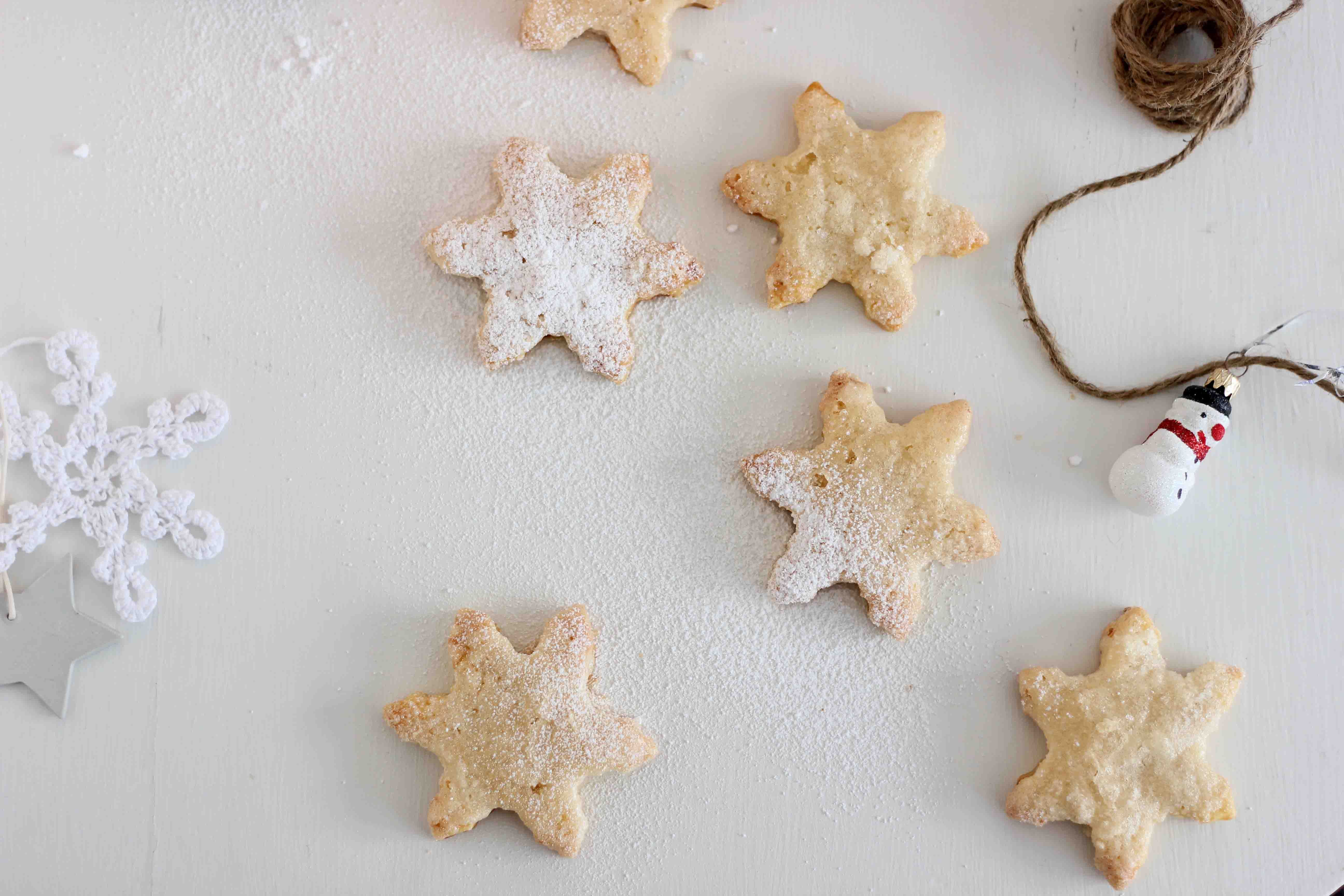 Source: http://www.butterbaking.com/2015/12/22/polish-christmas-cookies/
MEXICAN TRADITIONS
Christmas in Mexico is celebrated from December 12th to January 6th, during which time children perform a number of plays and processions about Mary, Joseph, and the shepherds.
Although Christmas trees are becoming more and more popular in Mexico, the most important decoration is still the nativity scene, or nacimiento. The scenes are very large (sometimes life size!) and often take up an entire room in a Mexican family household.
Merry Christmas! Feliz Navidad!
Decorations
Star Lamps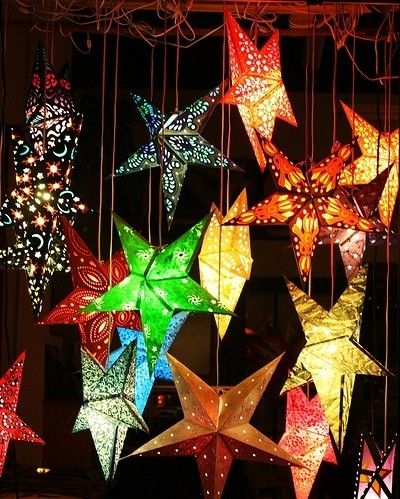 Source: https://www.pinterest.com/pin/376332112596679053/
Corn Husk Angels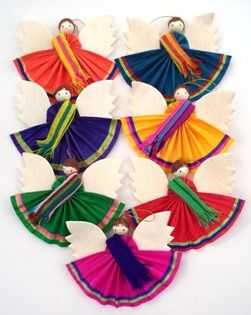 Source: https://www.pinterest.com/pin/376332112596650530/
Painted Tin Star Ornament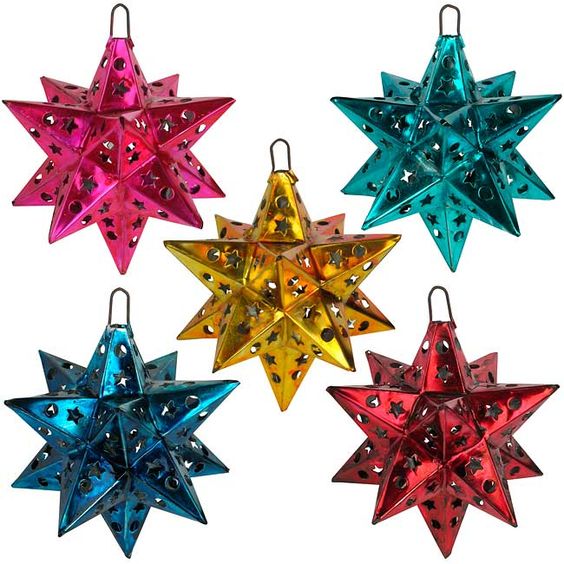 Source: https://www.pinterest.com/pin/376332112596650538/
Dessert
Mexican Wedding Cookies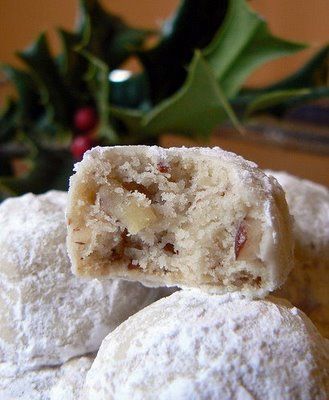 Source: https://www.pinterest.com/pin/241083386275073110/
GERMAN TRADITIONS
Traditionally on Christmas Eve (Dec. 24) in Germany, Santa Claus or Father Christmas (der Weihnachtsmann) brought gifts, and the Christmas tree was brought into the house and secretly decorated by the mother of the family.
St. Nicholas' Day is celebrated on December 6th. On December 5th, children leave their shoes by the door with the hope that der Nikolaus (St. Nicholas) would fill them with chocolate and other sweets.
Merry Christmas! Frohe Weihnachten!
Decorations
German Star Ornament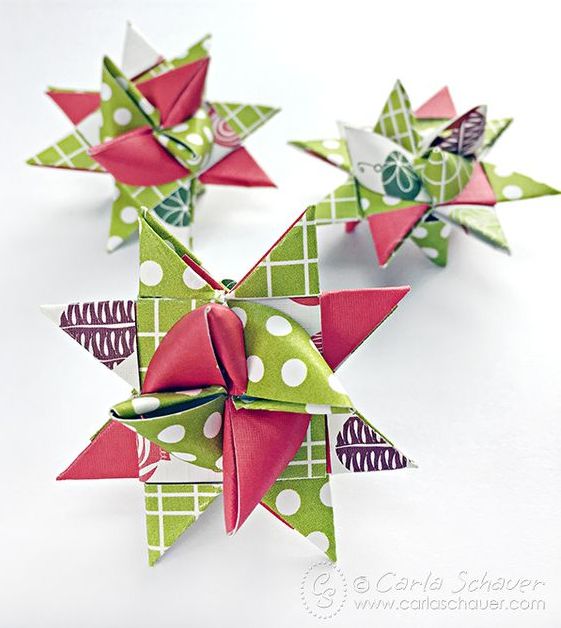 Source: https://www.pinterest.com/pin/376332112596679070/
Dessert
German Christmas Almond Cookie (Mandelspritzgebäck)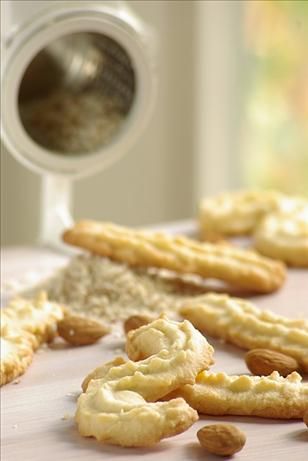 Source: https://www.pinterest.com/pin/376332112596679076/
Haselnussmakronen (raspberry-hazelnut macaroons)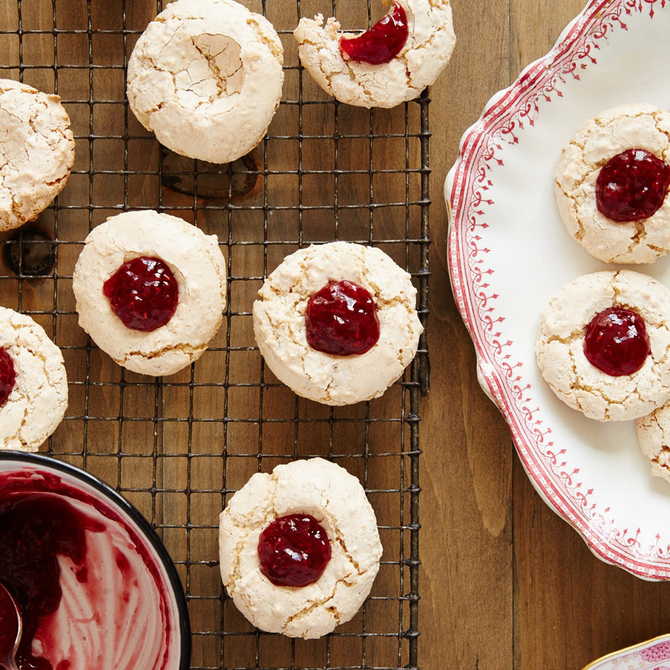 Source: © Nicole Franzen
RUSSIAN TRADITIONS
The Russian Orthodox Church uses the old Julian calendar in which advent is 40 days long, beginning November 28th and ending January 6th. Christmas is then celebrated on January 7th.
Some people fast on Christmas Eve until the first star appears in the sky. Once the star appears they enjoy porridge made from wheat or rice served with honey, poppy seeds, fruit (especially berries and dried fruit like raisins), chopped walnuts or sometimes even fruit jellies. The porridge is often eaten from one shared bowl, symbolizing unity. Christmas dinner is a feast with dishes like roast pork & goose, Pirog and Pelmeni (meat dumplings). Dessert consists of things like fruit pies, gingerbread and honeybread cookies (called Pryaniki) and fresh and dried fruit and more nuts.
Merry Christmas! 's rah-zh-dee-st-VOHM' (C рождеством!) or 's-schah-st-lee-vah-vah rah-zh dee-st-vah' (Счастливого рождества!)
Decorations
Handmade Russian Glass Doll Ornaments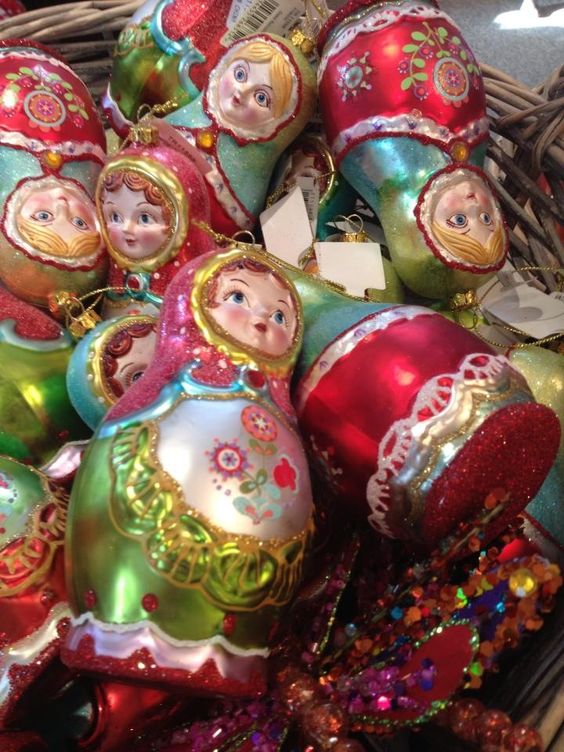 Source: https://www.pinterest.com/pin/376332112596650496/
Matryoshka Ornament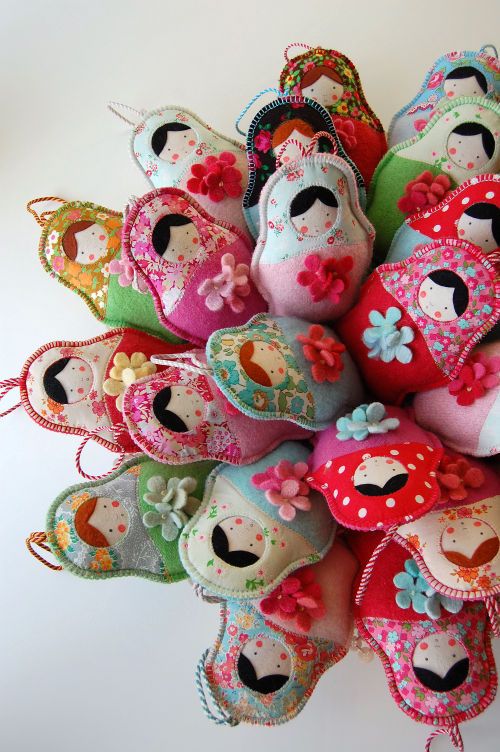 Source: https://www.pinterest.com/pin/273804852314770805/
Dessert
Pryaniki (Russian Spice Cookie)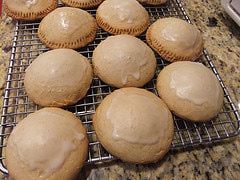 Source: https://www.pinterest.com/pin/376332112596650500/
Russian Teacakes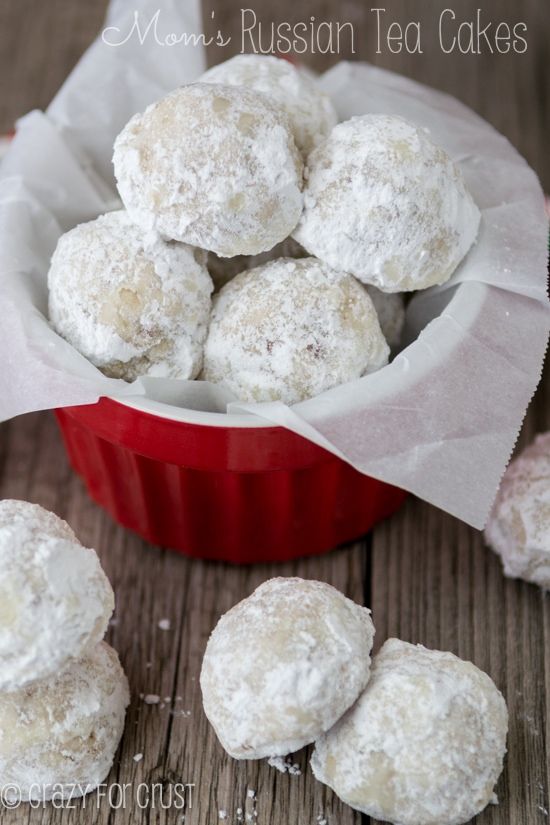 Source: https://www.pinterest.com/pin/376332112596650507/
FRENCH TRADITIONS
Decorations
French Advent Wreath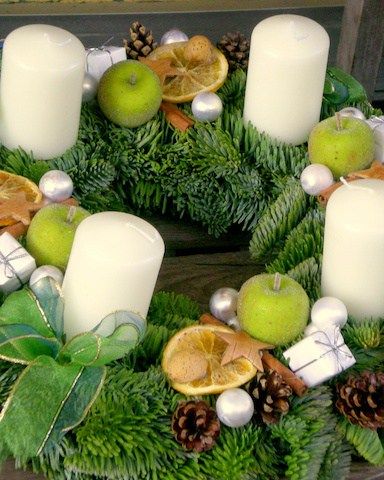 Source: © French Moments
Dessert
Bûche de Noël (Yule Log)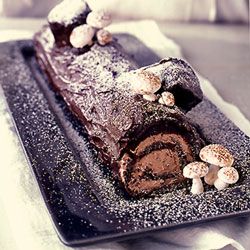 Source: https://www.pinterest.com/pin/376332112596679484/
BRAZIL
Many Brazilian Christmas traditions come from Portugal as Portugal ruled Brazil for many years. Nativity Scenes, known as Presépio and plays called 'Os Pastores' (The Shepherds) like the plays in Mexico are very popular.
Many Christmas customs are similar to ones in the USA or UK even though it's summer and very hot at Christmas time in Brazil. Many people like to go to the beach.
In Brazil, Santa Claus is called Papai Noel & Bom Velhinho (Good Old Man). Sometimes children leave a sock near a window. If Papai Noel finds your sock, he'll exchange it for a present!
Dessert
Brigadeiro (Brazilian Fudge Balls)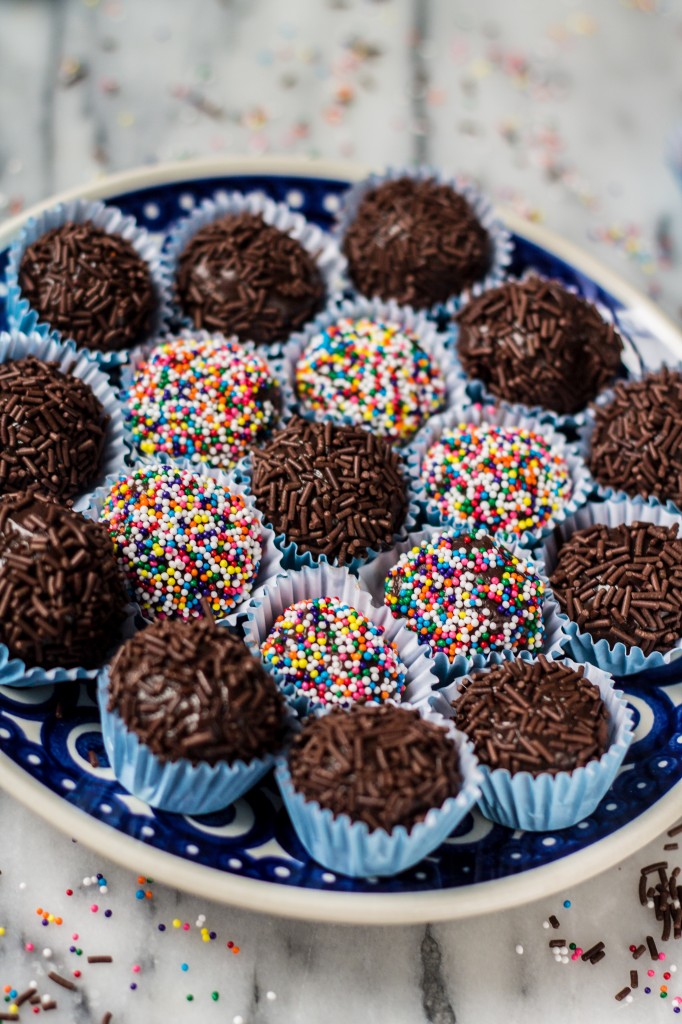 Source: http://www.oliviascuisine.com/traditional-brigadeiros/
INDIA
Only about 2.3% of India's population is Christian, but because the population in India is so large (over 1 billion!), there are roughly 25 million Christians!
Christmas Eve midnight mass is an important event for many Christians in India. The whole family walks to church and afterward shares a large meal of delicacies (mostly curries) together. Gifts are also exchanged after mass on Christmas Eve.
Instead of having traditional Christmas Trees, a banana or mango tree is decorated (or whatever tree people can find to decorate). Sometimes people use mango leaves to decorate their homes. Father Christmas or Santa Claus delivers presents to children from a horse and cart. He's known as 'Christmas Baba' in Hindi, 'Baba Christmas' in Urdu (both of those mean Father Christmas); 'Christmas Thaathaa' in Tamil and 'Christmas Thatha' in Telugu (both of those mean Christmas old man); and 'Natal Bua' (Christmas Elder Man) in Marathi. In Kerala state, he's known as 'Christmas Papa'.
CHINA
In China, only about 1% of the population celebrates Christmas and it is only publicly celebrated in big cities where retailers and streets might display Christmas trees, lights and other decorations.
Ironically, most of the world's plastic trees and Christmas decorations are made in China and the people making them might have no idea what they're used for!
Only a few people have a Christmas Tree (or celebrate Christmas at all!). If people do have a tree it is normally a plastic one and might be decorated with paper chains, paper flowers, and paper lanterns (they might also call it a tree of light). The Christmas Trees that most people would see would be in shopping malls!
In Chinese, Happy/Merry Christmas is 'Sheng Dan Kuai Le or 圣诞快乐' in Mandarin and 'Seng Dan Fai Lok or 聖誕快樂' in Cantonese.
JAPAN
In Japan, Christmas is celebrated as a time of spreading happiness, rather than a religious holiday. Although Christmas is not widely celebrated as a religious holiday, there are a few customs that the Japanese have begun adapting from the USA and UK, such as sending Christmas cards and giving gifts.
Christmas Eve is actually more widely celebrated than Christmas day in Japan. It is a romantic day resembling Valentine's Day in the USA. Young couples like to go for walks to look at the Christmas lights and have a romantic meal in a restaurant. As a result, booking a table on Christmas Eve can be very difficult.
Christmas day is the busiest time of year for restaurants such as KFC and other local fast food restaurants because of the popularity of fried chicken Christmas dinners. In fact, KFC ran a successful advertising campaign in 1974 called 'Kentucky for Christmas!' (Kurisumasu ni wa kentakkii!).
Want to know more? This website is an awesome resource for Christmas traditions around the world: http://www.whychristmas.com