Ludwig Mies van der Rohe is in an internationally recognized architect and designer. More commonly known by his last name, Mies van der Rohe, or sometimes simply Mies, he was actually born Maria Ludwig Michael Mies. He would later drop Maria and add van der Rohe (his mother's surname) when he began to see some success in his career.
Mies was born in Aachen, Germany in 1886. His father was a master mason and young Ludwig helped him when he could. When he was old enough, he began to apprentice with local architects. It was in these roles that he began to develop his talent for linear drawings, a skill he would put to good use throughout his career.
At age 19, Mies moved to Berlin to work for an architect, but only for a short time, as an opportunity arose with Bruno Paul. Paul was a well-known furniture designer who favored the Art Nouveau style, which was quite popular at the time. Within 2 years, Mies was commissioned to take on his first solo project, which was a suburban house. This house was so well done that it caught the eye of Peter Behrens, who was considered the most progressive architect in Germany at the time. Behrens was also a founder and prominent member of Deutscher Werkbund, an association of German architects, designers, and artists, assembled with the intention of improving competitiveness of German companies in global markets. Mies went to work with Behrens, and quickly began to benefit from Behrens' extensive network of industry professionals.

In 1914, WWI began. Mies served in the German army and helped build roads and bridges. When the war ended and the German monarchy fell, the Wiemar Republic was born. Bauhaus, an avant-garde school for the arts, was created during this time and with it came the rise of many modern architects and artists. These years served as more of a planning period for Mies. He drew up numerous projects, many of which are on display today at the Museum of Modern Art in New York. He also began to work with members of Deutscher Werkbund, and eventually became Vice President. In 1927, he, along with other Werkbund members, hosted an exhibition to demonstrate various housing project designs. This exhibition showed the world that the major architects of the day were all moving toward what was called International Style. As a direct result of this exhibition, Mies was commissioned to build Villa Tugendhat which is pictured below. This structure quickly became an icon of modern architecture.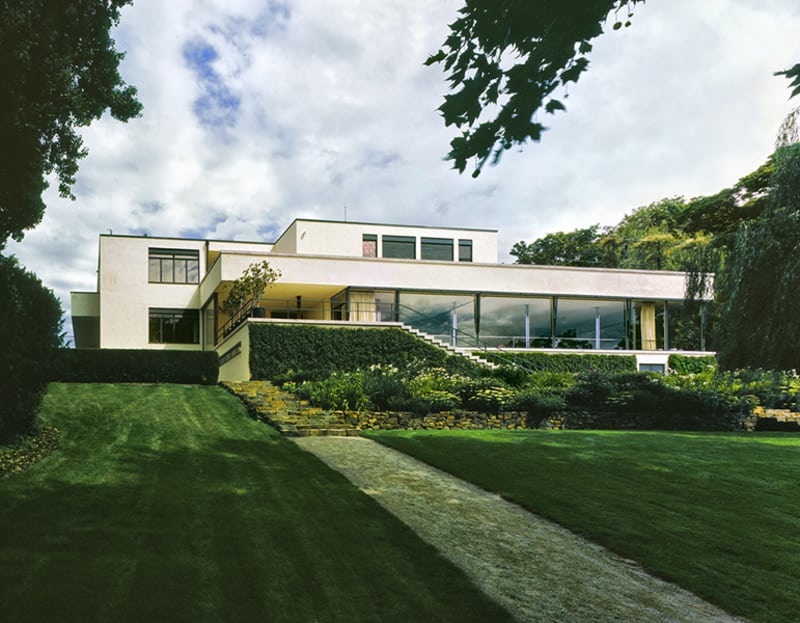 [Source]
Soon after, Mies was commissioned to create the German Pavilion (more commonly known as the Barcelona Pavilion) for the International Exposition at Barcelona. The Pavilion is a stunning, clean structure. Similar to the Tugendhat Villa and some his future projects, there are distinct lines and expansive windows.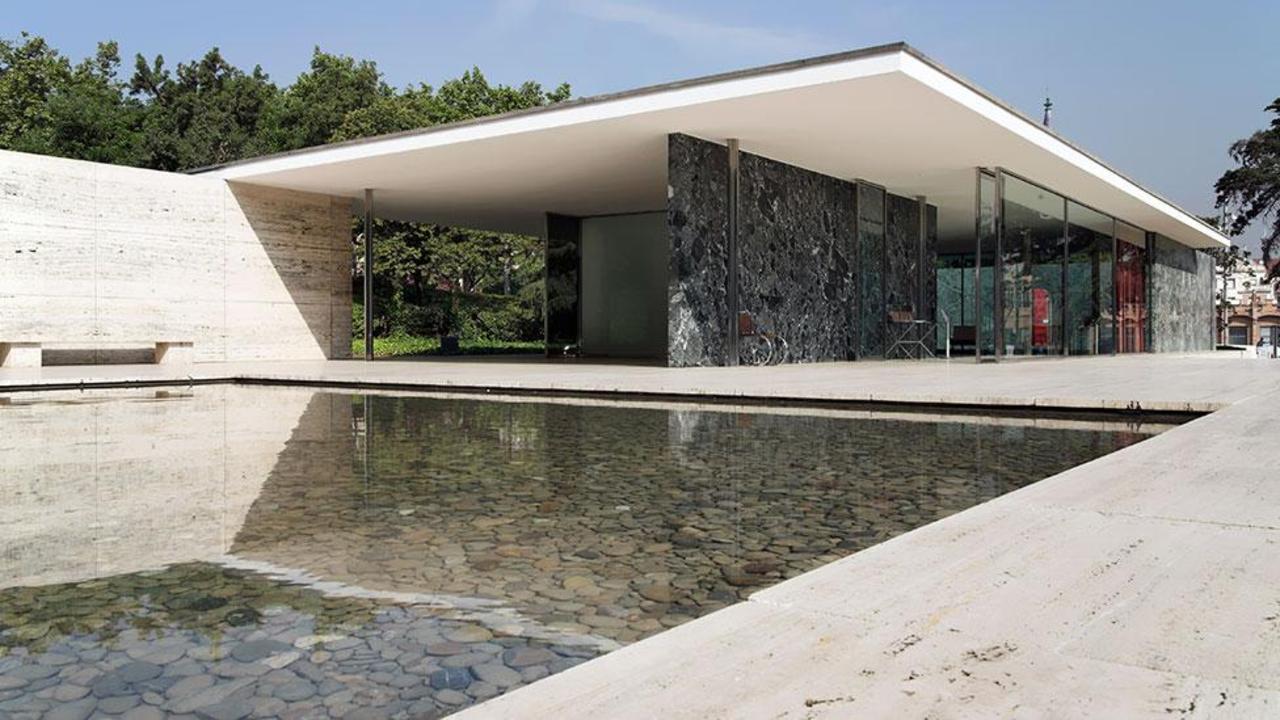 [Source]
While the exterior could have been a success on its own, the furniture created for the Pavilion is even more recognizable. For the interior, Mies designed what came to be known as the Barcelona chair, pictured below. This chair immediately gained international attention and is still popular today.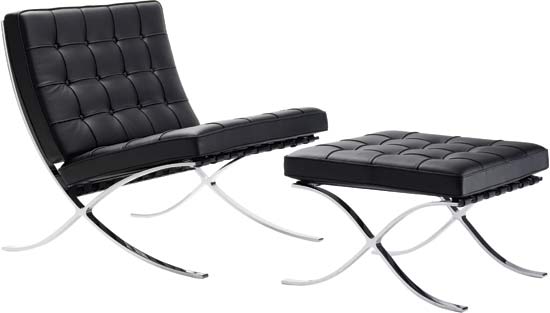 [Source]
Although the Barcelona Chair is likely his most popular piece of furniture, Mies is credited with many other exceptional pieces such as the Brno Chair and the Tugendhat Chair.

While Mies was continuing to gain recognition for his increasingly popular work, Germany was witnessing the rise of the Nazi party. This proved to make things difficult for Mies. In 1930, he became Director of the Bauhuas. Tensions were high between attacks on the school carried out by the Nazis and opposing student groups. The Nazis eventually closed the school in 1933. Mies attempted to reopen it in Berlin, but there was no room for modern, international design in Hitler's Germany. In fact, many of his structures were damaged or even destroyed during WWII. Fortunately, most of them were rebuilt and are functioning today.

By 1937, Mies had relocated to the United States. He quickly became the Director for the Illinois Institute of Technology, where he worked for 20 years. During that time, he designed many of the buildings on campus, one of which is pictured below. True to form, these buildings consisted of large panes of glass and exposed steel beams.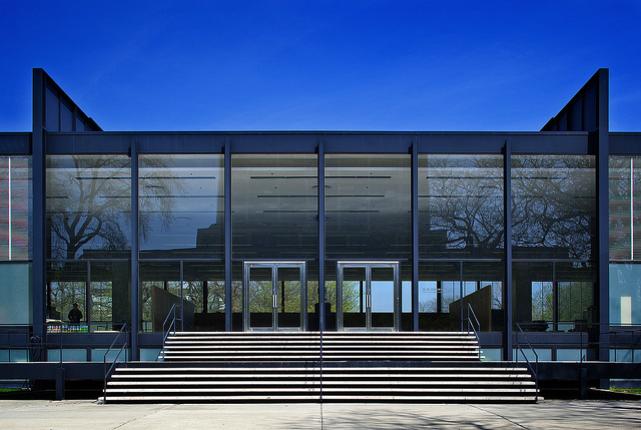 [Source]
Mies designed structures that were built off-campus as well. Some of the larger projects include Lake Shore Drive Apartments in Chicago, the Seagram Building in New York, and more. He also had the opportunity to design three small structures including the Farnsworth House in Plano, IL, the Morris Greenwald House in Weston, CT, and the Robert McCormick House in Elmhurst, IL.
Local Influence
Fortunately for us, Mies shared his talent with Detroit and designed Lafayette Park. This collection of Mies van der Rohe buildings is located just a few minutes east of downtown and is listed on the National Register of Historic Places. The Park consists of the Pavilion, the East and West Towers, the Plaisance, and Town and Court Houses. These units boast floor to ceiling windows which bring in plenty of natural light and offer beautiful courtyard views. One of the courtyard units is currently for sale for $650,000. There is a plethora of information available on Lafayette Park, including a really impressive website that you can access here.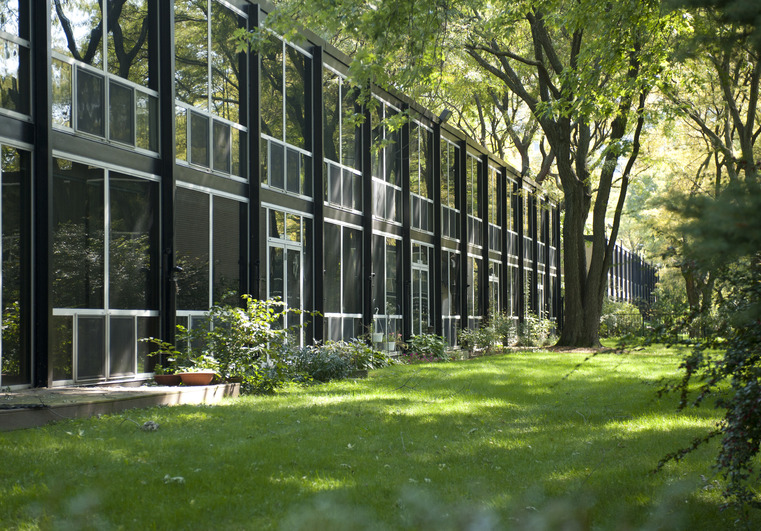 [Source]
References:
https://www.britannica.com/biography/Ludwig-Mies-van-der-Rohe

https://www.archdaily.com/214337/a-historical-masterpiece-reopens-to-the-public-villa-tugendhat-mies-van-der-rohe